Agriculture Lubes
Super Lube® - The Robust Choice for Agriculture, Farming, and Commercial Turf Care
We know how important your equipment is; Synco Chemical Corporation is dedicated to providing our customers with products that will keep their tools operating at their very best. We make sure that Super Lube® works on bailers, tractors, air compressors, trucks, vacuum pumps and more agricultural machinery, ensuring that equipment runs during critical periods. No matter the harsh operating conditions, be it intense heat, cold, dirt and water, we make sure that the elements don't stop you from doing exactly what you need to do.
At Super Lube®, we can help you or your team identify exactly what lubricants will protect your equipment best, increase production, and save you time and money. Your equipment is important. Let us help you take care of it.

Super Lube® Meets All Your Agricultural Needs
The best lubrication system begins with a complete understanding of the equipment and its correct application. In the early morning, equipment can be subjected to frigid temperatures, while midday can become a scorcher. Gearboxes and bearings can be exposed to water and moisture, and deep plowing can put strain on tractors.
In this intense weather, you need a heavy-duty, dielectric grease that will not pound out, wash off, or melt and run. Super Lube® has a wide line of greases recommended for agricultural use. In addition, our Super Lube® Engine Treatment with Syncolon® can boost performance of agricultural mobile equipment with a sturdy formulation that reduces engine wear diesel and gasoline engines. Super Lube® Engine Treatment delivers all-season performance. It is designed to provide outstanding viscosity properties at both low and high temperatures. When used in conjunction with filter changes and periodic oil analysis, they can increase the amount of time between drainings. Super Lube® Engine Assembly Grease provides a lubricant film to the engine that prevents scoring and reduces heat until the motor oil located in the crankcase has sufficient time to lubricate the engine.
Fertilizing and chemical sprays are often corrosive, so lubricants with excellent oxidation and rust additives are critical to keep the equipment running. For example, dry fertilizer will gather on the travelling chain in the bed of the spreader. This can lead to the chain failing. Super Lube® Multi-Purpose Synthetic Grease with Syncolon® is designed to protect chains and wire rope from rust and corrosion. Super Lube® Multi-Purpose Synthetic Grease with Syncolon® will not wash off in water and salt water applications.
Many Super Lube® lubricants are rated NSF (H1) for incidental food contact. This is critical as the agricultural machinery can come into contact with the food products; our lubrication ensures that the crops remain uncontaminated, safe, and clean. For more information on Super Lube®'s use with food and beverages, please visit our Food & Beverage page.
Super Lube® in Action
Looking to increase reliability through effective lubrication, the largest manufacturer of lawn, garden and agriculture equipment selected Super Lube® Multi-Purpose Synthetic Grease and Oil with Syncolon® to replace their existing lubricant products.
The Super Lube® not only had to offer better lubricating qualities, but it also had to be compatible and be capable of mixing with the existing grease in the shafts, bushings and bearings of the field equipment.
Super Lube® has worked so well, that it is offered as private labeled items by the manufacturer in a variety of aerosol, grease and oil products.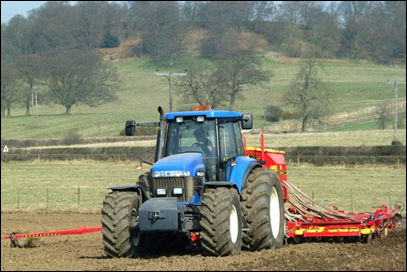 We Can Answer Your Questions
Is your equipment information outdated? Are you wondering what the best, up-to-date lubricant might be for your tools? No worries. We can recommend the best lubricant for your specific need. No matter what problems you may face, Super Lube® is there to help. Click here to ask our lubrication experts a question about your equipment. We can also be reached on Facebook, Twitter, Instagram, YouTube, and LinkedIn.
Additional Documents
Some Uses in the Agricultural Industry
Harvesters
Hoppers
Irrigation Equipment
Planting Equipment
Plows
Tilling Equipment
Tractors
Utility Vehicles
Barn Cleaners
Spreader Apron Shafts
Silo Unloaders
Manure Pumps
Lawnmower Decks
Blades
Bearings
Cables
Lawn Tractors
Hydraulics
Hedge Trimmers
Golf Carts
Edgers
Spark Plugs
Electrical Connections
O-Rings
Gears
Pulleys
Pumps
Valves
Locks
Electrical Motors
Food Processing Equipment
Linkages
Radio Antennas
Snow Equipment
Bushings
Firearms & Reels
Household Appliances
Chains
Conveyors
Terminals
Cab doors & Hitches
Elevator Chain
Linkage Pins
Combine Chain
Sliding Doors
Seed Plates
Seat Tracks
Balers
Step Kits
Shovels and Blades
Cable Pivots
Chain Saws
Spin Spreaders
Power Tools
Extended Mirrors
Hinges